Science Team
Project Ultra involves academic partners from Cardiff, Southampton and Leeds Universities, GEOMAR Helmholtz Centre for Ocean Research Kiel (Germany), University of Bergen (Norway), and industry partners (Equinor A/S) supporting data collection, PhD students, and providing links with end-users.
Professor Bramley Murton Chief Scientist, National Oceanography Centre

Bram is a professor of marine geology and leads the National Oceanography Centre's Marine Minerals Team. His expertise is in oceanic crust and the formation of mineral deposits including volcanic and tectonic processes, hydrothermal circulation and metalliferous mineralisation.
Paul Lusty British Geological Survey

Paul is the British Geological Survey's Team Leader for Ore Deposits and Commodities. Paul's research covers both the security of supply of raw materials for decarbonisation of the economy and resource management:
ore deposit formation, particularly of 'critical' metal deposits; and
mineral statistics and data analysis, to understand the supply-demand dynamics of metals and material lifecycles to inform assessment of supply risk.
Paul's research interests have evolved from land-based mineral exploration, focused on orogenic gold, to volcanogenic massive sulphide mineralisation and rare metal pegmatites, to modern seafloor hydrothermal systems and extinct seafloor massive sulphide deposits.
Professor Chris MacLeod Cardiff University

Chris is a professor of Marine Geology at Cardiff University. His research interests include oceanic detachment faults, crustal accretion at oceanic spreading centres and the geodynamic setting of ophiolites. Chris conducts observation-based, multi-disciplinary, meso-scale geological investigations of modern ocean floor and of ophiolites to address the processes of formation and deformation of ocean lithosphere at mid-ocean ridges.
Whether on land or at sea he applies fine-scale mapping, structural geology, rock magnetics/palaeomagnetism, petrology, geochemistry and geophysics to answer fundamental geological questions about mid-ocean ridge processes.
Dr Isobel Yeo National Oceanography Centre

Isobel is a volcanologist in the National Oceanographic Centre's Ocean BioGeosciences group. Her research interests are focused on submarine volcanic and magmatic processes, marine geohazards and blue resources and energy. Isobel works with various autonomous marine platforms to study how magmas and lavas interact with the ocean environment, before, during and after eruption and how Earth's crust is generated by volcanic activity.
Dr Anna Lichtschlag National Oceanography Centre

Anna is a geochemist in the National Oceanographic Centre's Ocean BioGeosciences group. She studies the biogeochemistry of marine sediments and sediment-water exchange processes with a focus on the connections between different element cycles, e.g., the carbon, sulphur, metal and nutrient cycles and the drivers of early diagenetic processes.
"My main research goals are to better understand the links between marine geochemistry and external stressors (natural and anthropogenic), and the impact on the benthic environment."
Dr John Jamieson Memorial University of Newfoundland

John holds the Canada Research Chair in Marine Geology at Memorial University of Newfoundland. His research involves exploring and investigating geological processes associated with plate tectonics and hydrothermal venting in order to increase our understanding of geological processes in the deep ocean and the potential and risks associated with marine mineral exploration and exploitation.
Dr Sven Petersen GEOMAR

Sven is a research scientist at the GEOMAR Helmholtz Centre for Ocean Research Kiel. His scientific interests include the formation and evolution of seafloor hydrothermal systems, the mineralogy and geochemistry of submarine massive sulphides, toxic metals in the marine environment and marine resources. Sven has worked extensively with autonomous underwater vehicles for use in exploration of the seafloor.
Dr Andrew Martin Memorial University of Newfoundland

Andrew works in the Jamieson Marine Mineral Resources group at the Memorial University of Newfoundland. His research is focused on seafloor massive sulphide (SMS) deposits and their ancient on-land analogues, volcanogenic massive sulphide (VMS) deposits. He is interested understanding metal enrichment processes in active and ancient VMS systems and how these processes vary with tectonic environment and the maturity of the hydrothermal field (i.e., change over time).
Dr Katie McFall University College London

Katie is an economic geologist and geochemist at University College London. Her research seeks to understand the processes which concentrate E-tech elements into ore deposits in order to allow more energy and cost-efficient exploration and extraction, and to help find sustainable supplies of metals critical to green technology. She does this by using a combination of field mapping, core logging, petrology, geochemistry and mineral micro-analysis.
Dr Simon Allerton Cardiff University

Simon's research interests are focused on understanding the processes controlling the accretion and deformation of the oceanic lithosphere, with a particular focus on the upper oceanic crust using: direct observations from the oceans: multibeam bathymetry and acoustic imaging, drilling and potential field data; interpretation of commercial 3D seismic reflection data covering oceanic lithosphere at continental margins; and analogue studies of ophiolites: field mapping, structural geology, and integration of palaeomagnetic data.
Acer Figueroa National Oceanography Centre and University of Southampton

Acer is a PhD candidate at the university of Southampton and the National Oceanography Centre. His research interests revolve around geochemical processes in the context of mineral resources and tectonics. He applies different analytical techniques to Earth materials from various geologic features (e.g., diatremes, ophiolites) to decipher processes such as ore genesis and geodynamics. His current research aims to identify controls on hydrothermal activity over time by investigating deep-sea sediments above seafloor massive sulphides and across an oceanic core complex at the Mid-Atlantic Ridge.
Christian Bishop National Oceanography Centre and University of Southampton

Christian is a PhD candidate at the University of Southampton and the National Oceanography Centre. His primary research is seeking to understand the processes that result in the development of ore deposits, particularly critical metals, and energy critical elements. As part of his PhD thesis, he will focus on the Semyenov hydrothermal field, an extinct, ultramafic hosted seafloor massive sulphide deposit. Pursuing to understand the potential within these deposits, how the ultramafic host affects the system as a whole and the potential for alteration to lead to supergene enrichment.
Szu-Ying Lai National Oceanography Centre and University of Southampton

Szu-Ying is a PhD candidate at the University of Southampton and the National Oceanography Centre. Her research focuses on using seismic imaging to investigate high-resolution subseafloor/underground structure for natural resource potential and geohazard analysis. Currently, she is working on using both conventional and unconventional seismic techniques (seismic while drilling, down hole seismic, high frequency deep towed seismic and surface GI-gun seismic) at ultramafic-hosted sulphide deposits (muSMS) Semyenov ite on the Mid-Atlantic Ridge. She hopes to build a deposit model, a reliable resource estimate, and understand the mineralization process for Semyenov site.
Dr Gaye Bayrakci National Oceanography Centre

Gaye is a Marine Seismologist at the National Oceanography Centre. Her research is focused on measuring and understanding diverse marine systems using novel seismic techniques, from submarine hydrothermal systems to carbon capture and storage.
Remote Drill 2 Team (British Geological Survey)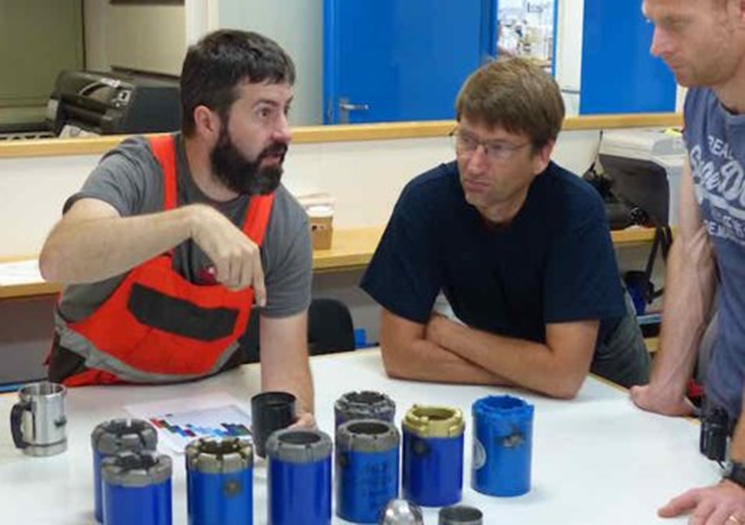 A team of nine people is responsible for operating and maintaining RD2 whilst offshore. In charge is Michael Wilson, the Lead Engineer, who has been involved in RD2's design and development since the concept first evolved in the mid-noughties. An electrical engineer by background, Michael is now a multi-disciplinary engineer, involved in system design, electrical, hydraulic and software engineering.
Apostolos Tsiligiannis (another electrical engineer), Connor Richardson and Davie Baxter (mechanical engineers), are part of the BGS Marine Operations group and have all worked on RD2 since its early development stage.
Rod Akkari, from Acodaq, has developed the drill control software and provides software support offshore as well as undertaking normal operational duties.
The rest of the RD2 team for Project Ultra includes Graham Tulloch, Helen Smith and Pierre Josso (all from BGS), and an electrical contractor. Onshore, Iain Pheasant, is responsible for the mobilisation of RD2 onto the RRS James Cook, as well as arranging logistics and looking after our base facilities in Edinburgh, ably supported by James Thomson.
ROV Isis/Hybis Team (National Oceanography Centre)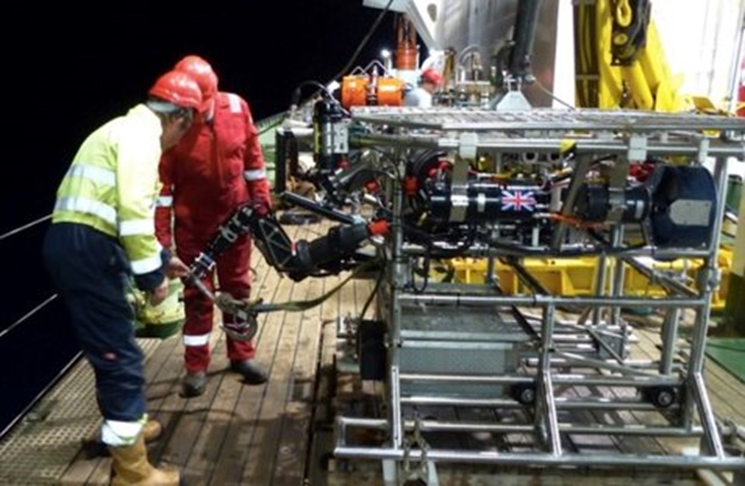 Both Hybis and the ROV Isis are operated by engineers from the National Oceanography Centre. The team is led by Dave Turner, the ROV operations manager and for the ULTRA 1 expedition will include Russell Locke, the ROV senior Mechanical Engineer, Emre Mutlu, an ROV software engineer and Martin Yeomans, an ROV mechanical engineer.